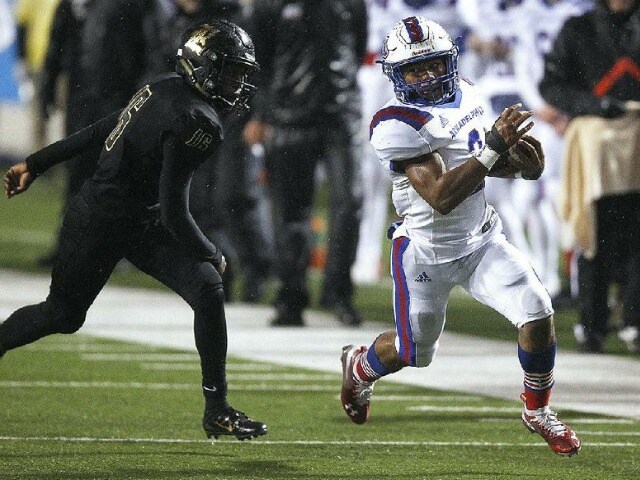 The non-conference season is finished, and the Arkadelphia Badgers are still undefeated and still ranked first in Class 4A. The Badgers have some tough tests ahead in the 7-4A conference, but Badger fans should be hopeful about the upcoming conference slate after what we've learned about the team through the first three games of the season.
1. Arkadelphia's ground attack is near unstoppable.
Arkadelphia's running game this season has been immense. Seniors Kyron Harrison and Cannon Turner form a fearful backfield duo, and the pair have plenty of space to run in because of a veteran offensive line. The Badgers have averaged 361 rushing yards per game this season, and that number is not likely to decrease as the conference season ticks on. Turner has rushed for 321 yards and two touchdowns this season, while Harrison has 453 yards and 10 touchdowns, which is the most of any player in the state.
2. Arkadelphia is a second-half team.
The Badgers have averaged a 23-point margin-of-victory this season, but all three of their games have been relatively close at the half. The Badgers led Sylvan Hills 26-10 at halftime before winning the game 57-22. They trailed Benton 14-13 at halftime before winning 33-20, and trailed Wynne 20-14 before winning 51-31. Arkadelphia has exploded in the second half of all three games, a testament to the team's stamina, mental toughness and a solid coaching staff which can make mid-game adjustments.
3. This year's Arkadelphia team has no glaring weak spots.
Arkadelphia is strong across the field. The Badger offense is loaded at every position, and the defense has also played rather well. Coming into the season, it was thought the Arkadelphia secondary could be a weak point having lost three starters from last season, but that area has been strong as well! Senior Patrick McLane and juniors Kelin Nelson and Trey Bledsoe have all played admirably and held opposing teams from beating the Badgers in the air. As the season goes on, Cannon Turner and Buster Thomas can fill in at cornerback to add more depth to the secondary. The Arkadelphia team has been well-rounded, and teams will have to come at Arkadelphia with a well-rounded game if they want any chance of pulling out a victory.